This is a Hipmunk guest post from Jodi Ettenberg. 
In installing this fun USB wall socket from Think Geek, I was thinking of the USB-related gadgets that make life easier (or more fun!) on the road. 
For starters, Belkin's mini surge protector is one that I keep with me at all times. It allows me to charge whatever I need, is tiny enough that it doesn't take up too much room, and comes in handy when there's only 1 outlet in a hostel and people are clamouring for it.
For those of you with a serious amount of USB charging required, the USB Octopus has your name on it: 7 USB ports in one tiny gadget. 
A similar idea for USB only is the Flip-It, allowing you to charge a device even when all the outlets are taken. 
Less practical but very fun to have on the road is the X-Mini II speaker. The tiny podlike speaker fits in a felt bag and gives off far more sound than their size would indicate. I've used them all over the world to play some of my music to locals who are curious about what I listen to; inevitably, people forget about the music and start oohing and aahing over the X-Mini instead!
Finally, for those of you in warmer, sunnier climates: JuiceBar solar charger for USB charging goodness.
What kinds of USB gadgets do you travel with? Leave 'em in the comments! 
This is a Hipmunk guest post from Jodi Ettenberg. Her views and opinions are hers alone and do not represent Hipmunk. 
A galaxy that looks like a sombrero? Yeah, space has that. This image of the M104 galaxy highlights billions of old stars in its center, causing the diffuse glow of its "hat":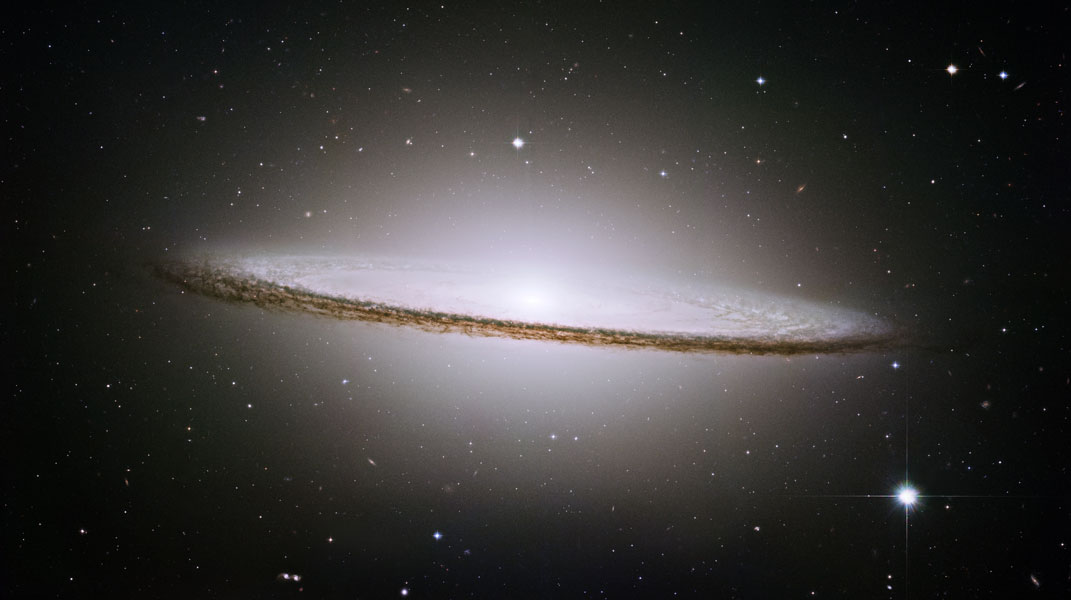 And speaking of space, yesterday's Endeavour shuttle launch was a wondrous thing to behold. NASA has posted the video of the launch, which will be Endeavour's final mission.
When traveling around the world, tipping is always a question asked around the dinner table between travelers. Some countries don't expect tipping unless you're at a very high-end restaurant, others not only expect it but would be angry if you didn't leave a tip before you leave. This handy infographic from Mint.com lists out the tipping etiquette in a bunch of different countries, from the USA to Argentina to China and more.
Travel + Leisure mag rounds up the best travel gadgets for 2011 so you don't have to.
In 1909 the great-grandfather of Flickr user Cranewoods travelled to Moscow while accompanying a group of American champion trotting horses on an exhibition tour. Cranewoods has posted a beautiful set of the vintage photos from Russia, which he interited after his great-grandfathers death.
Pretty awesome: the world's first completely digital sundial, using no electronics or electric power. Check out the post for a detailed explanation of how it works, plus the actual blueprints to build one yourself.
I absolutely loved this Octopus ballet, a high-definition deep-sea filming of one of my favourite animals, the Dumbo octopus. Surreal and graceful, its wing-like ears propel it through the dark depths of the ocean. Lovely.
. [youtube http://www.youtube.com/watch?v=fDxBVZhZZwI?rel=0]
And finally, Colombus Ohio had its 2011 Zombie Walk this weekend, and as this video shows they seem to have it under control in the event of a zombie apocalypse.
More to come later this week!
Earlier in April, NASA invited a group of tweeters to join for the launch of its STS-134 mission to the International Space Station. That launch was delayed until April 29-29, and due to bad weather the shuttle never took off as planned. However, Trey Ratcliff did manage to capture the weather with one of his signature, beautiful photos, as you can see below. For more on the image, see Trey's Stuck in Customs website.
Stormy weather over NASA in Florida; Photo by Trey Ratcliff.
National Geographic Adventure just released its "Gear of the Year, Spring 2011" roundup, a compendium of the best for the summer months in lightweight gear like tents and rain jackets, as well as cameras, packs, kayaks and more.
Looking to help those affected by from the recent tornadoes in the South? Good magazine has put together a list of resources, updated frequently.
Incredible grabs from Google streetview, selected by a photographer.  August is peak season to visit Japan's Mount Fuji, and Matador Network has put together a packing list for your climb, so you don't have to.
Mount Fuji in Japan; photo by Midorisyu
MSNBC on 10 natural wonders to see before they disappear, including the Dead Sea, The Congo Basin and the Belize Barrier Reef. Some absolutely gorgeous photos accompany Eating Asia's food tour of Beşiktaş, an off-the-beaten path area of Istanbul, Turkey.  Translucent origami to make my attempts at paper cranes look like a joke. [via] Long, beautiful tale of a recent visit to India's Trivandrum, where millions of women slowly make their way to the city to show their devotion during the Attukal Pongala Festival. Have any more quirky bathroom signs for Alexis to add to his roundup? Add 'em in the comments!